Posted by Admin - Tue 10th April 2018 8.35AM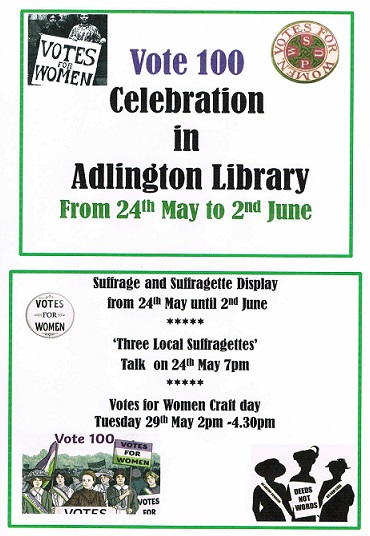 There will be a Votes for Women Display in Adlington Library from May 24th until June 2nd, to celebrate the 100th Anniversary of women getting the vote.
This display is for all age groups.
There will be a talk on Three Local Suffragettes which will take place on May 24th at 7pm, tickets are available from the library, there is no charge.
A craft event, which is open to everyone, takes place on May 29th from 2pm-4.30pm in Adlington Library.
They will be making rosettes, sashes, decorating hats, making placards and colouring pictures

FoAL would like to thank Women's Vote Centenary Grant (Vote100) for supporting this event.