Posted by Admin - Mon 5th March 2018 3.32PM

Updated: Mon 5th March 2018 3.33PM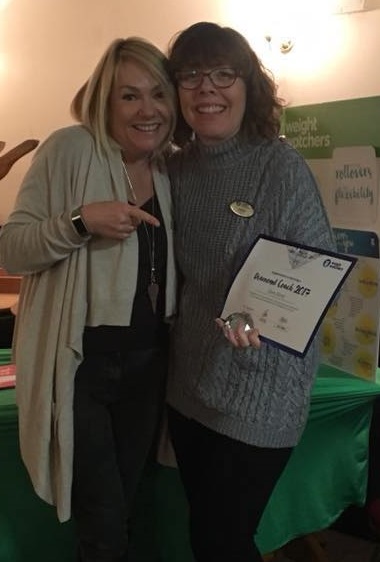 Claire Bond has helped hundreds of residents in Bolton towards a healthier lifestyle – and now Claire has been recognised for her outstanding service to Weight Watchers members in the community.
This week, Claire was awarded Weight Watchers Diamond Coach status at her Mercury Motel meeting in Westhoughton, Bolton. The award, which celebrates a coach's exceptional support to their members during their Weight Watchers journey, is only given out to a select group of Weight Watchers experts across the country.
With the recent launch of Weight Watchers Flex, Claire continuously encourages her members to enjoy food with freedom, teaches them to adopt healthy eating habits and equips them with the skills to help shift their mindset on what really matters during their new healthy lifestyle and weight loss journey.
In 2017 alone, Claire helped her members shed approximately 438 stones. With a plan personalised to each member's age, gender, BMI and lifestyle, Coach Claire, who has lost over 5 stones, has been committed to helping every member achieve their goal.
Westhoughton Mercury Motel Tuesday meeting member Sue Hayman who is happy to comment says the accolade is very well-deserved: "Claire is a real inspiration to me and the other members in our meeting. She always provides great tips, tricks and support to help us achieve our weight loss goals and develop healthier habits. She is such a positive person who goes above and beyond in her role as a Coach. I have lost 43.5lb with Claire and I've never felt better!"
It is the third time Claire has been awarded Diamond Leader status and she is thrilled:
"I'm so proud of my members and what they've achieved; it has been a fantastic year and to receive this award for doing something I love is amazing! It's great to see my members enjoying the food they love and jumping off the scales feeling happy.
"Unlike fad diets and quick fixes, Weight Watchers Flex is the most flexible and liveable programme ever. It gives people more freedom to enjoy food after expanding its zero Points foods to a list of more than 200 delicious foods. No food is off limits and you get even more flexibility by rolling over up to four unused SmartPoints® a day."
"Research shows that with Weight Watchers meetings and online tools you could lose up to seven times more weight than on your own, and during a six-month trial with WW Flex, better weight loss results were produced among participants than in any other clinical trials of Weight Watchers programmes, and I'm looking forward to continuing to prove that stat right!"
Claire runs 5 meetings a week in Bolton and recently opened a meeting in Aspull too as below:
Aspull Methodist Church – Tuesday 10am
Mercury Motel – Tuesday 5.30pm, Wednesday 9.30 and 11am
Horwich RMI – Wednesday6pm
To find out more about Claire's Weight Watchers meeting call on 07935 245448 or visit www.weightwatchers.com/uk to find out about other meetings in the local area.