Posted by Admin - Fri 5th January 2018 8.34AM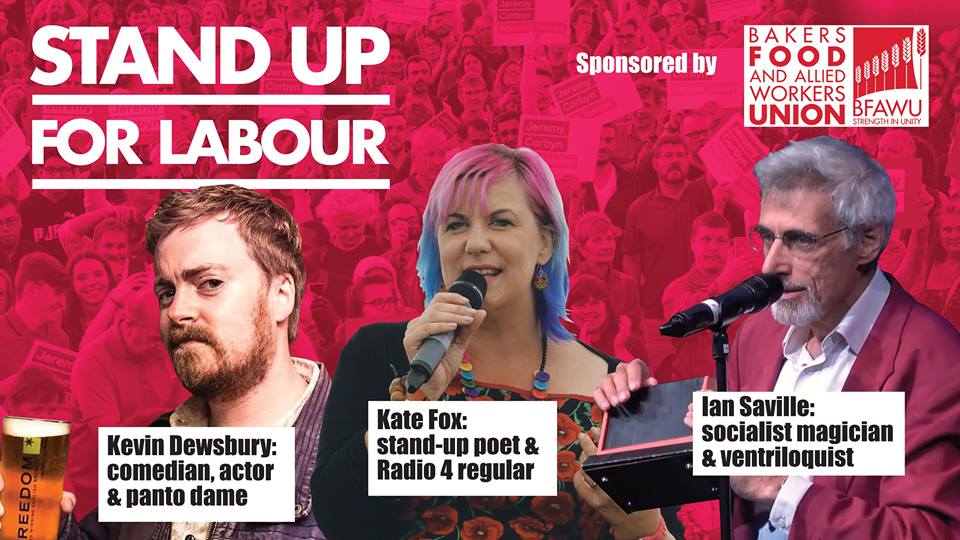 Horwich RMI hosts Stand up for Labour on Friday, January 26th hosted by Crispin Flintoff, who has organised over 200 events and raised over £150,000 in the process.
The night is sponsored by the BFAWU (Bakers Food & Allied Workers Union) and features a fantastic mix of comedy, stories, poetry, magic and all-round entertainment.
Performers on the night include:
Kevin Dewsbury, award-winning stand-up comedian, actor and recent Panto Dame
Kate Fox, an hilarious stand-up poet who has been compared with the late Victoria Wood for her skillful use of rhyme. Kate regularly appears on Radio 4.
Ian Saville, the only Socialist Magician in the Magic Circle.
There will also be speakers on the night.
Tickets are £10 if bought in advance here www.standupforlabour.co.uk/ourshop/prod_6279113-Stand-up-for-Labour-Bolton-West-Friday-26-January.html or £12 if bought on the door.