Posted by Admin - Wed 13th December 2017 8.15AM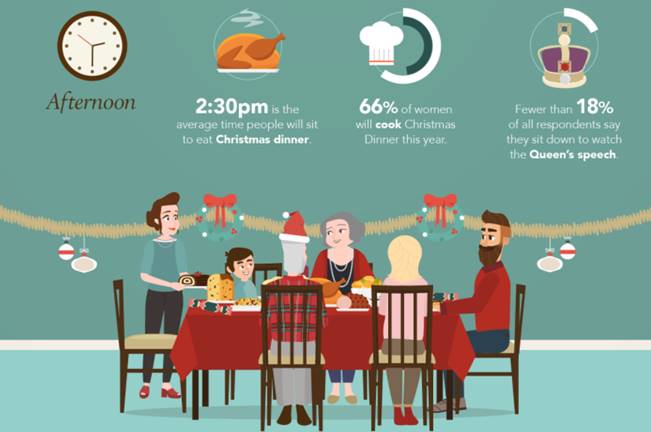 Sofa Workshop have recently surveyed the nation to find out how they will be spending Christmas Day.
The survey reveals that on average, a whopping 88 per cent of Brits will spend up to 7 hours on their sofa on Christmas Day, yet 4 in 5 will give the Queens speech a miss this year.
It seems women continue to be most likely to host Christmas Day in the household, with 66 per cent of females saying they will get up to cook Christmas Dinner. Similarly, 67 per cent of women would get up to re-fill drinks, whereas 53 per cent of men are more partial to a nap after a day of non-stop fodder.
When asked what time of the day they most like to settle on the sofa, 64 per cent said after their hearty Christmas dinner, with 2:30pm being the average time people will sit down to eat. Surprisingly, only 18 per cent of respondents said they will sit for the Queen's speech this year.
Most Brits' motivation to get off the sofa is two-fold: to consume food, or to top up drink. 78 per cent of respondents admitted that, once they were snug, the only time they would get up would be to eat their Christmas dinner. Likewise, a huge 66 per cent said they would only budge to fill up their drink.
When asked why more time is spent on the sofa on Christmas Day, 69 per cent said it was so they could spend quality time with their family, whilst 45 per cent agreed that huge portions of food and drink contributed to their lethargy – and thus, more time spent in snug surroundings!
Megan Holloway, Marketing Manager at Sofa Workshop told us: "The recent survey highlights just how important little life luxuries like spending time with family and friends in the home at Christmas are. Whether this is to curl up on the sofa and watch Christmas films, or eat and drink to our hearts content together, the sofa seems to be a focal point of everyone's Christmas Day!"
To view how the average UK household will spend Christmas Day, you can find a timeline breakdown here www.sofaworkshop.com/blog/fun/average-uk-household-spends-christmas/