Posted by Admin - Fri 1st December 2017 5.17PM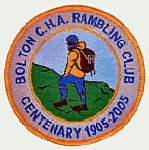 Bolton C.H.A. Rambling club's latest programme of walks, which take place on Wednesdays and Saturdays, have been announced.
They are:
B STONE CIRCLE – Cars to Turton Tower BL7 0HG for 10.30 start. Stone Circle, 3 Lowes, Wayoh West, Barlow Institute, Turton Bottoms, Jumbles East. 9 miles Ray Jennings
C WHITE COPPICE – Meet at Anglezarke car park, nearest post code; PR6 9DQfor 10.30 start. Kays Farm, White Coppice, East of Reservoir, Anglezarke CP. 6 miles. Kath Powter
C SUMMERSEAT GARDEN CENTRE – Park at end of Lumb Carr Road, near Hare and Hounds public house,BL0 9RY for 10;30 start
Holcombe brook Summerseat Garden Centre, Chest Wheel, Burrs Country Park, Touch Road Farm, Nabb's Farm, Brooksbottom. 6.5 miles. Mary Turner
Normal walks are suspended for one day only, due to the club's Christmas lunch.
There will be a short walk meeting at Moss Bank park at 10am, followed by the club members' lunch.
Try them out first by just turning up at the meeting points which are all listed on the website www.boltoncha.org.uk.
If you interested in joining our club, or for further information visit the website and use the 'contact us' link or email the Secretary, on 01204 394649
Wednesday number '1' and '2' walks are approximately 8 and 9 miles and of similar standard. Number '3' walks are approximately 6 miles, are easier and at a slower pace.
In some cases, post codes are nearest to start point.
Saturday 'A' walks are approximately 12 miles, 'B' are approximately 9 miles and 'C' are approximately 6 miles
Bolton CHA Rambling Club was founded in 1905 and celebrated its centenary year in 2005. The CHA itself was founded in 1891. We walk in a multitude of locations in the general, Bolton-area, such as; Chorley, Horwich, Rivington, Belmont, Ramsbottom and Darwen etc.
The birth of the Countrywide Holidays Association (CHA) was in the small mill town of Colne in Lancashire. In 1891 a prominent figure in the town, T. A. Leonard took a party of 30 young men on holiday to Ambleside in the Lake District, and to Caernarfon the following year. The holidays were intended to improve the lives of working people and were an alternative to the excesses of the local Wakes Weeks.
In January 1897 the draft constitution of the Association was drawn up at the Manchester YMCA and a small company was founded to make the Association a legal entity, with the title The Cooperative Holiday Association. A Head Office was established in Manchester in 1908 and by 1936 30,837 guest weeks were enjoyed at 37 centres at home and abroad.
In 1964 the name was changed to the Countrywide Holiday Association thereby keeping the same initials. In the 1990's the original company ceased trading but many of the Associated Clubs across the country continued to function and many also retained their original CHA name.
Bolton CHA Rambling Club remains very active and we welcome and encourage new members to join us and enjoy the simple pleasure of walking in the beautiful Lancashire Countryside and beyond.
We'll introduce you to walks you may not know of and in turn you can offer us your favourites. Choose an easy-going walk to see how you like it and move up to greater challenges later if you wish.