Posted by Admin - Wed 4th October 2017 8.13AM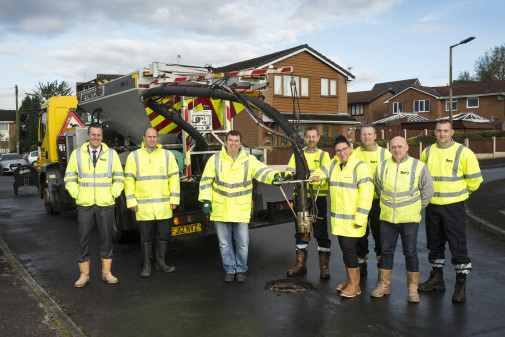 Bury Council is investing in new machinery as part of a £10 million boost to repair the borough's roads and potholes.
The latest technological arrival will be a new £138,000 spray injection patching machine, capable of tackling several times the number of problems as a traditional gang.
The aim is toimprove performance, value for money and increase efficiency. But while the extra money will fill more potholes, the lion's share will be spent on early intervention and resurfacing work in order to prevent future problems arising.
In 2016/17, workers laid more than 3,000 tonnes of asphalt and completed 12,000m2 of carriageway and footway repairs. They have also used a CAT road planing machine for a variety of road works, successfully completing around 2,500 sq m of carriageway patch repairs since April.
Councillor Alan Quinn, cabinet member for the environment, said: "Our highways teams work very hard all year round trying to keep our roads in good condition.
"The council follows, and in some instances exceeds, national guidance on the maintenance of highways; still, it's never enough to remedy all the defects that afflict our streets, and that have built up over a long time due to chronic cuts in our funding. We should spend £6 million per year just to keep the roads in a 'stand still' state but we actually spend around one fifth of that amount.
"While we will continue to press the Government for a fairer deal for Bury, we are taking direct action and investing in our roads for the future, and I'm sure that Bury people will see the difference."
The assets maintained by Bury's highways team:
Roads – 660km
Footways – 1,200km
Road gullies – 36,500
Road signs – 15,000
Guardrail – 15km
The entire length of the adopted highway in Bury is inspected every year; monthly, quarterly, six-monthly or annually depending on the road, with major streets inspected more regularly than quiet cul-de-sacs. Last year the inspectors walked 5,516km on their inspections.
The council is now looking at bringing in a new computerised system which will help residents to flag up problems and keep them informed about when they will be repaired.
Cllr Rishi Shori, leader of the council, said: "Potholes and the condition of our roads are among the biggest concerns that are reported to us – that's why I decided to raise an extra £10 million in this year's budget to spend on tackling them. While this will not solve every problem overnight, especially when there are other vital frontline services that need funding, residents can be assured that improving our highway network is one of our top priorities."
Cllr Alan Quinn and interim chief executive Pat Jones-Greenhalgh (centre) are pictured with the highways team with the kind of spray injection patching machine the council is now buying.