Posted by Admin - Mon 11th September 2017 8.01AM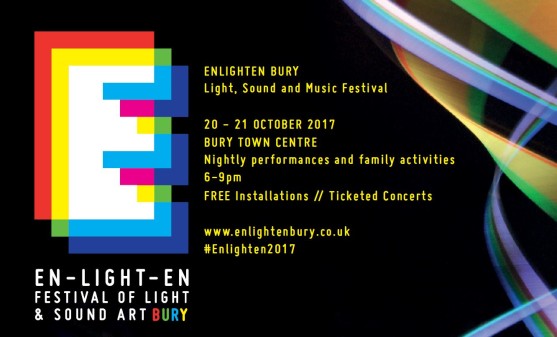 A new sound and light festival will bring a stellar programme of world premieres, award-winning artworks and international musicians to Bury.
Arts producers Curated Place have partnered with Bury Art Museum & Sculpture Centre to develop Enlighten Bury, reinventing the experience of the town's previous Light Night into a high quality public art installation trail alongside an international music programme.
An array of interactive light and sound installations will bring the streets, venues, galleries and bars of Bury's cultural quarter to life, while stars of the experimental world music will play into the night.
Curated Place is one of the UK's leading arts and festival producers. They recently won 2016 Scottish Festival of the Year for the SPECTRA festival in Aberdeen, and this year delivered the critically acclaimed "John Grant's North Atlantic Flux" for Hull 2017 UK City of Culture.
Some of the attractions:
Felix's Machines - Compositional Automata is a new dual functional machine created by Felix to be programmed by new composers and shown at festivals and exhibitions as a standalone light and sound sculpture.
Seminal electronica group Plaid will perform original new scores with Felix, building an ambient mixture of sound, light and machinery that will dazzle and excite.
Digital artist Seb Lee-Delisle's "The Lightning Catchers" is a large scale laser-projected interactive game for 2 to 10 players where the aim of the game is to catch as much lightning as you can with lightning rods.
Poco Apollo is a generative music piece by Icelandic musician/programmer Halldór Eldjárn. Built upon NASA's Apollo Space mission photo archive: around 15,000 photos taken on earth and in space, Poco Apollo generates musical soundscapes for each image in the library. This event will be a live performance as guitarist Daníel Helgason joins Halldór onstage to interpret the songs along with self-playing robotic harp. After the performance, Poco Apollo will take over and play back random songs ad infinitum.
Paul Friedlander'sLight Harp is a collection of heavy black cords stretched taught horizontally across a frame and set in vibra­tion. Since the amplitude of the waves is large, the audience sees not a string but a translucent volume swept out in space by the vibrating movement. These strings are lit with chromastrobic light, a special form of light that chang­es colour faster than the eye can see.
Owl Project is a collaborative group of artists consisting of Simon Blackmore, Antony Hall and Steve Symons. They work with wood and electronics to fuse sculpture and sound art, creating music making machines, interfaces and objects which intermix pre-steam and digital technologies. Drawing on influences such as 70s synthesiser culture, DIY woodworking and current digital crafts, the resulting artwork is a quirky and intriguing critique of the allure and production of technology.
Most of the events are free, although there is a charge for some of the music concerts.
For all the details, go to www.enlightenbury.co.uk