Posted by Admin - Mon 21st August 2017 9.07AM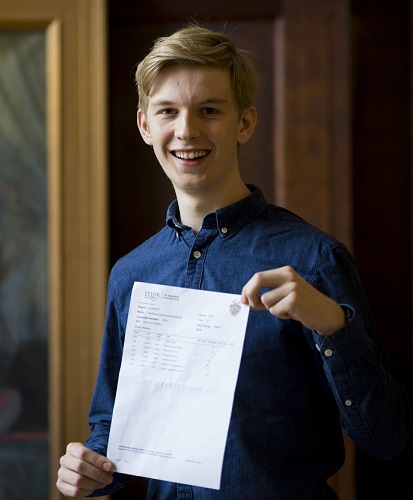 A student from Bolton who is a pupil at The Manchester Grammar School is celebrating exceptional A-level results.
Boys who study at The Manchester Grammar School (MGS) collected their results today amidst the news that MGS had once again earned outstanding grades; a third of all results (36%) were at the coveted A* level, a record for MGS.
71% of all grades were A* or A, and 91% of grades were A*, A or B.
And from Bolton, Matthew Prudham, 18, was awarded 1A*, 1A and a Distinction One in his Cambridge Pre-University examination.
Along with A-level and International A-level results, MGS pupils received Cambridge Pre-University examination results in a number of subjects. The Pre-U is a challenging alternative to A-level, with its own grading system. The highest Pre-U grade, a Distinction One (D1), is a grade above A*, whilst a D2 is equivalent to an A*.
Matthew said: "It's very euphoric! It's nice to end the stress and enjoy the feeling of relief. It feels like there's been such a big gap from doing our exams to getting the results – and I've been hard on myself so I didn't know what to expect.
"In addition to my studies, I've also been working at Bolton Library Museum as a Saturday assistant – they've helped and supported me so much so I'd like to thank them too. I joined MGS in Year 9 and the teachers have been so encouraging – it's just fantastic.
"I'm off to Durham University on 1st of October and I can't wait. I'll be studying Classics, and quite a lot of my friends are going there and I have a close friend studying at Newcastle too. This afternoon I'm going out for a meal to celebrate with family then off out with friends tonight to toast the end of an era – it's been a fantastic five years and I couldn't have done it without them."
Other results from the School include exceptional individual performances; 19 pupils were awarded A* grades in all their subjects, six of these pupils achieved four A* grades, a tremendous achievement. 76 boys achieved a clean sweep of A* and A grades.
54% of all Pre-U grades awarded to MGS pupils were D1 or D2, an outstanding performance.
Oxford and Cambridge offered places to 22 Manchester Grammar School pupils in 2017. Other leading universities to which MGS boys will be heading this autumn include Imperial, UCL, LSE, Durham, Warwick, York, KCL, Manchester, Nottingham and Leeds.
27 pupils received university offers to study Medicine, Dentistry or Veterinary Science.
The School's High Master, Dr Martin Boulton, said, "This year's results are exceptional and I am absolutely delighted that the talent, hard work and dedication of our boys has been rewarded.
"For more than a third of all A-level grades to be A*s, and 91% of all grades at A*-B level, is fantastic, and once again places The Manchester Grammar School in a very select number of schools nationally.
"It is a source of great pride for everyone at the School to have seen these boys grow and mature into young men during their time with us. Our talented and dedicated staff aim to challenge our pupils intellectually and develop their academic passions, whatever they may be. It is wonderful to see them rewarded with excellent grades and moving on to study a diverse range of courses at leading universities.
"In congratulating them, I would also like to wish them every success as they take the next exciting steps of their academic journeys."