Posted by Admin - Thu 27th July 2017 12.35PM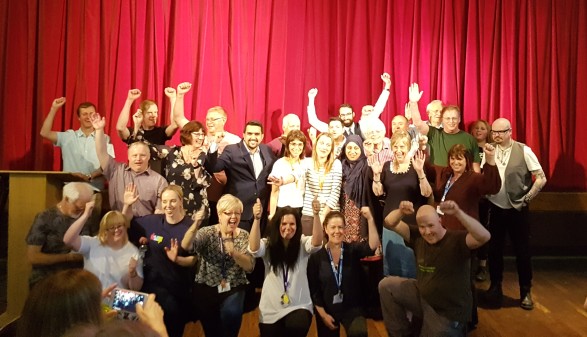 Residents turned out in force to decide which community groups in Bury South would win cash for local projects.
Some 31 groups pitched for a share of funding, each delivering a presentation on how their scheme would support their communities.
The event, held at the Longfield Suite in Prestwich, was the second of two events called The Pitch following a similar exercise in Bury North.
Following the presentations, residents voted for 16 local community groups to share the community fund. The successful projects are:
Big Knit: Knitting for the Community: To comfort the elderly and needy of all ages by providing knitted and crocheted shawls, blankets and leg warmers. To include dementia sufferers, local nursery/toddler groups, mother and baby (0 to 3 years)
The FED: The FED Community Cafe: Providing a warm welcoming place where vulnerable lonely older people can meet friends, chat over tea or coffee, play Scrabble, read the papers, play table-tennis/pool and receive information/advice from trained staff
Prestwich Community Cinema: Classic Cinema Club: Accessible affordable cinema, reintroducing the older generation to film in a non-multiplex, culturally enriching environment to reduce social isolation
Back to Netball Bury: Winter Netball provision: Providing low cost netball sessions to women of all ages and abilities. These sessions aim to increase the level of activity and fitness in the borough, while also fostering a greater sense of community
The Rotary Club Bury: The Family Crisis Fund: To provide free of charge clean, quality household furnishing items to families and individuals living through critical life situations
Bury People First: Safe and Healthy Lifestyles: Six workshops for learning disabled adults designed and delivered by learning disabled adults on issues affecting everyday life, allowing individuals to gain skills and knowledge and overcome adversity.
Hollins Conservation Group: Stiles and path renewal in Hollins Nature Reserve: Replacing muddy track with an all-weather path and replacing old stiles with modern kissing gates for universal access
Radcliffe Boys and Girls Club: Radcliffe Boys and Girls Club: Redeveloping club/community services for young people to thrive and learn new skills, develop new friendships and reach their full potential
Early Break: Wellbeing Fund: Helping young people in times of hardship/crisis, supporting access to extra-curricular activities as part of recovery and positive life changes
Making Space: Death Cafe: Discuss death, dying/bereavement with no agenda, objectives or themes
St. Andrew's Church, Hillock: St. Andrew's House Community Project: Helping people in need through providing a food pantry, clothing, laptop/internet access, and health clinics
Making Space: Bury Dementia Service: Community members living with dementia, providing a supportive and necessary place for their carers, family members and friends
Chapelfield TRA: Growing Together project: Promote the growing fruit/vegetables and healthy cooking/baking
Men in Sheds: Men in Sheds: The Woodies: To prevent social isolation for men over 50. Providing an environment where men can meet and make things, have a brew and talk
Special Olympics Bury: Break into Boccia: Providing sports and social activities for young disabled people aged 13-30
Wellspring House: Art for Wellbeing: Engaging in creative activities to improve mental health and reduce social isolation
Councillor Tamoor Tariq, cabinet member for communities and safer neighbourhoods, said: "The Bury South event had a record turnout of more than 200 people, with local residents allocating money for local people – truly democracy in action.
"All the 'pitches' were excellent, and we look forward to hearing about how the successful pitches come to fruition and wish everyone involved the best of luck in their activities."
You can follow the progress of each project via their dedicated project page at www.theburydirectory.co.uk/thepitch. For further information, call neighbourhood engagement coordinator Ruth Shedwick on 0161 253 5327.
Community groups can keep up to date on further Community Fund opportunities via www.theburydirectory.co.uk/funding.