Posted by Admin - Fri 21st July 2017 9.31AM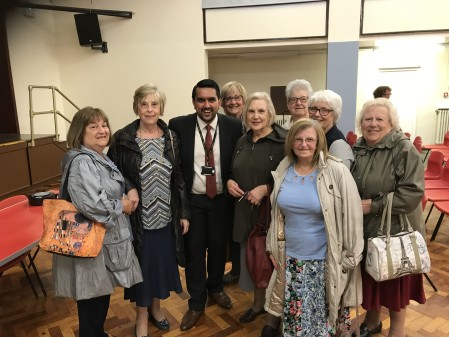 Cllr Tamoor Tariq with the successful group behind the Big Knit project.
Some 17 local groups have won money for projects in their community after a public vote.
They were successful at the first of two events, called The Pitch, when they presented their case to local residents who then decided which projects to back.
The first event was for proposals in North Bury, and 29 groups altogether pitched for funding. The successful projects were:
Big Knit: Knitting for the community: To comfort the elderly and needy of all ages by providing knitted and crocheted shawls, blankets and leg warmers. To include dementia sufferers, local nursery/toddler groups, mother and baby groups (0-3 years)
Baby Basics: Baby Basics Bury: To help vulnerable pregnant ladies, their babies and professional agencies in Bury North. To work with members of the community in collecting surplus baby items through a number of donation points across Bury
Back to Netball Bury: Winter Netball provision: Provide low cost netball sessions to women of all ages and abilities. These sessions aim to increase the level of activity and fitness in the borough, while also fostering a greater sense of community
Contact Theatre: Uniquely Us: Theatre-based project for young women (18-30) on the autistic spectrum to engage with the arts, make friends, and build confidence in a fun/pressure-free environment
The Rotary Club Bury: The Family Crisis Fund: To provide free and clean quality household furnishing items to families and individuals living in critical life situations
Buddy's for Children with Autism: Social/friendship groups: Providing opportunities for socialising, meet and make friends through a variety of activities
Women of Worth: Alternative Therapies: Improving wellbeing and helping to develop self-managing techniques
Collabor8 Youth: Building Bridges: Bringing communities together, building bridges and supporting our youth supported by GM Police and the Cadets
Early Break: Wellbeing Fund: Helping young people in times of hardship/crisis, supporting access to extra-curricular activities as part of recovery and positive life changes
Making Space: Bury Dementia Service: Community members living with dementia, providing a supportive and necessary place for their carers, family members and friends
Bury Voluntary Ranger Service: tool purchase: Purchase of tools to undertake various tasks and up-skill volunteers
Walshaw Park FC: Walshaw Park: Purchase of kits and tools
Chesham Fold TRA: Chesham Food Bank: Provide accessible emergency food bank service in the heart of Chesham
Caritas Diocese of Salford: Red Door Project: Helping rough sleepers, homeless and vulnerable adults, including those with drug and alcohol dependencies. Provide much needed support in finding temporary and permanent accommodation, and help to access benefits and other services
Merrie Melodies: Merrie Melodies Singing group: By reducing isolation and delaying the onset of dementia by becoming involved in social activities, the speed at which brain cells die can be delayed. This reduces the strain on GPs and adult care teams
Ramsbottom Together: Ramsbottom Together: Reducing social isolation, providing an environment for mutual support
Friends of Tottington Library: Save our Library: Ensuring the valuable community asset remains open and is stocked with technology
The second funding event will take place for projects in South Bury, and is held on July 25th at the Longfield Suite, Prestwich (from 5pm). Groups will explain their plans to residents who will vote for the projects they wish to see funded.
Councillor Tamoor Tariq, cabinet member for communities and safer neighbourhoods, said: "We were all blown away by the quality of the bids and the excellent work local community groups are undertaking day in and day out in North Bury. They are all our local heroes.
"I'd like to say well done to all those involved and thank them for the good work they all do. For those who were not successful, I know officers are keen to work with them to offer support. Everybody's presentation was excellent; it was so hard for people to choose!
"We now look forward to the South Bury funding event and wish all those pitching on the night the best of luck."

You can follow the progress of each project via their dedicated project page at www.theburydirectory.co.uk/thepitch. For further information please contact township co-ordinator Ruth Shedwick on 0161 253 5327.
Community groups can keep up to date on further Community Fund opportunities via www.theburydirectory.co.uk/funding.