Posted by Admin - Fri 7th July 2017 9.40AM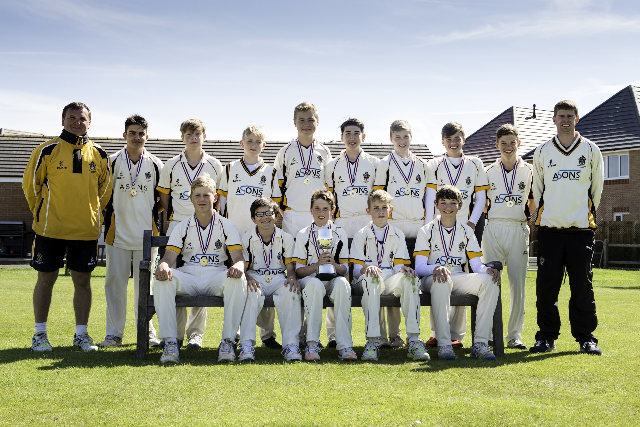 Bolton School Boys' Division Under 14s headed to Fylde Cricket Club to compete in the Lancashire Schools' Cricket Association Cup Final against Oldham Hulme Grammar School.
Having lost the toss and been put into bat, the opening pair of Donohue and Blackhurst built a very steady partnership of 64 in 17 overs. Boundaries were hard to come by but the boys kept the scoreboard ticking over until Donohue tried to "go big", missed and was bowled for a well-made 38.
Blackhurst departed, stumped in the next over for 20 and was quickly followed back by Schofield who was caught behind for 0. Williams-Denton and Broughton looked to steady the ship but Broughton was bowled for 3, bring Jackson to the crease.
Jackson ran well and Williams-Denton looked like he was batting on a different wicket to everyone else, ensuring the scoreboard kept momentum. The score was pushed up to 120 before Jackson for 17 was caught looking to accelerate the scoring even further.
Williams-Denton was still there and maintained a good scoring rate with a succession of partners as the team looked to gather more runs. Spencer-McDermott was unselfishly run-out but had looked good for his 5, Waugh manoeuvred the ball well to finish not out for 7.
Two wickets in the last over, Williams-Denton, looking to hit a six, was bowled for an excellent 51 and Longworth was stumped the next ball, leaving Tydsley to come in and make 1 not out. A final score of 167/8 looked competitive.
Bolton's opening bowlers of Donohue and Williams-Denton were exceptionally impressive, showing great skill as they bowled with discipline and cleverly controlled the swinging ball.
In truth they were both unlucky not to pick up a wicket as both of Oldham's openers played and missed on numerous occasions and simply could not hit the ball off the square. After 13 overs the score was 19/0. The run rate was climbing but Oldham had wickets in hand.
The first change bowlers of Spencer-McDermott and Blackhurst also kept things tight leading the Oldham batsmen into rash shots. Then the breakthrough came with skipper Blackhurst taking the first wicket LBW. Spencer-McDermott then took 2 (LBW and bowled) in an over and Oldham were 30/3 off 18.
Continued pressurised bowling, great fielding, particularly from Miller-Stenton, and catching further upped the pressure on Oldham's batsmen.
Three more wickets fell to the accurate bowling of Blackhurst before Jackson came on to replace him and took a wicket with his first ball. Williams-Denton was brought back and took a deserved wicket (caught at slip by Donohue, via keeper Tydsley's gloves) before the spin of Hussain was introduced.
He duly wrapped up the inning with 2 wicket in 8 balls, both caught. Oldham were all out for 50.
A win by 117 runs meant that Bolton were the Lancashire Champions.